Vacancy for 100 Candidates Department of National ID and Civil Registration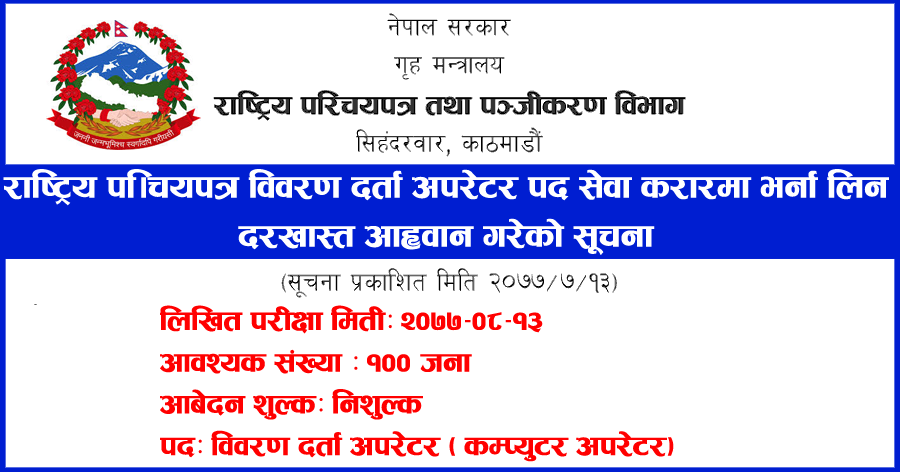 Vacancy for 100 Candidates Department of National ID and Civil Registration
Government of Nepal, Ministry of Home Affairs,
Department of National Id and Civil Registration (DoNIDCR), Sinhadarbar, Kathmandu
Details Notice: for Vacancy for 100 Candidates Department of National ID and Civil Registration
Under the program of giving National Identity Card to every Nepali citizens, the details registration operators have to be hired through open competition to collect the details of the citizens through mobile service in the campaign districts.
Applications are invited to fill out the online application form by creating a User ID at http://application.donidcr.gov.np. If there is a public holiday on the last day of submission of application, then the application has to be submitted during office hours on the first day of the office opened.
| | |
| --- | --- |
| Written Exam Date: | 2077-08-23 |
| Required Number of Positions: | 100 |
| Examination schedule: | Will be published on the website of the department. |
| Position: | Detail Registration Operator |
| Application Fee: | Free |
Qualifications required:
A) Age limit of the candidate: Nepali citizen who has completed 18 years and not exceeding 35 years till the last date of application.
B) Minimum Educational Qualification and Training: If you have passed Proficiency Certificate Level or 10 + 2 and have received at least 3 months of computer-related training or have passed that level with 100 Full Marks Computer subject in Proficiency Certificate Level or similar or above. No separate training certificate required.
C) No action has been taken to disqualify him for government service.
Salary: Monthly remuneration will be provided at the rate of Rs. 1200 / – per day only.
For more information regarding the notice can be contacted on 9851238283.
Details regarding the notice, details of registration operator selection bases, and other information can be found on the website of the Department of National Id and Civil Registration (DoNIDCR) https://donidcr.gov.np
(Notice published on 2077-7-13)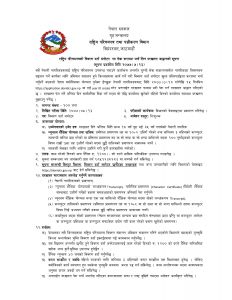 20 responses to "Vacancy for 100 Candidates Department of National ID and Civil Registration"