How to connect internet via ntc broadband
How to connect internet via ntc broadband
Here we present a step by step visual guide on how to configure Nepal Telecom's ADSL Internet Connection with your TP-Link Modem or router. For the base reference, we configured and tested for optimality with TP-Link's 300 Mbps Wireless N ADSL 2+ Modem Router  and many more router like Digicom, Tenda, Edimax.
Let's follow below the guide for how to setup the TP-Link 300Mbps Wireless N ADSL2+ Modem Router as a generic device for the same company.
Type (192.168.1.1) in your Internet browser and type admin name and password (we can get admin user name and password from back side of router), then Quick Start tab will appear as illustrated. This ADSL Router is ideal for home networking and small business networking. The "Quick Start" wizard will guide you configure the ADSL router to connect to your ISP (Internet Service Provider) ie NTC ADSL.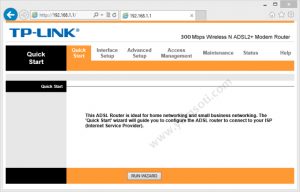 Click Run Wizard, which will show the steps needed to configure your TP-Link router. This quick start is a shortcut yet fully functional way to configure the ADSL modem. Follow the simple 4 steps and you will save the ADSL router settings for NTC.
Step 1. Choose your time zone
Step 2. Set your Internet conection
Step 3. Wireless network configuration
Step 4. Save setting of this ADSL Router
Time Zone Configuration
You can begin your configuration by clicking next. In first step it will ask to Choose your time zone, after selecting time zone click next (unfortunately TP-Link hasn't yet provided the time zone for Nepal which is GMT+05:45, so you will need to choose the closest Indian Time Zone.)
ISP Connection Type for NTC ADSL
In this step, you have to select your ISP connection type. There are four types of connection to choose from ie Dynamic & Static IP Address, PPPoE/PPP0A and Bridge Mode. Here you will need to select the third choice of PPPoE/PPPoA option which is common for most of the ADSL or DSL users, and obviously the same NTC ADSL settings in all sorts of routers.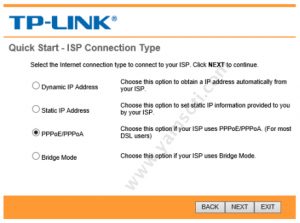 PPPoE/PPPoA Configuration for NTC ADSL
After selecting your ISP connection type, it will ask you to enter username and password provided by your ISP. Ensure to enter your Nepal Telecom's ADSL subscription username and password. Your NTC ADSL username starts like adsl082520017.
Take a note of the PPPoE/PPPoA information provided by NTC ADSL (valid for all sort of routers)
VPI : 8 / VCI : 81 / Connection Type: PPPoE LLC
WLAN Configuration for TP-Link
You are then asked to configure WLAN settings. To enable wireless (WiFi) access in your TP-Link router, activate the access point (AP) feature. SSID refers to the name of your WiFi connection.
After configuring WLAN settings quick start setup wizard is completed. If you want to modify your changes or mistakes you can click on the back button otherwise click next to save your setting. You are now ready to surf with NTC ADSL Internet Connection from your TP-Link 300Mbps Wireless Modem Router.